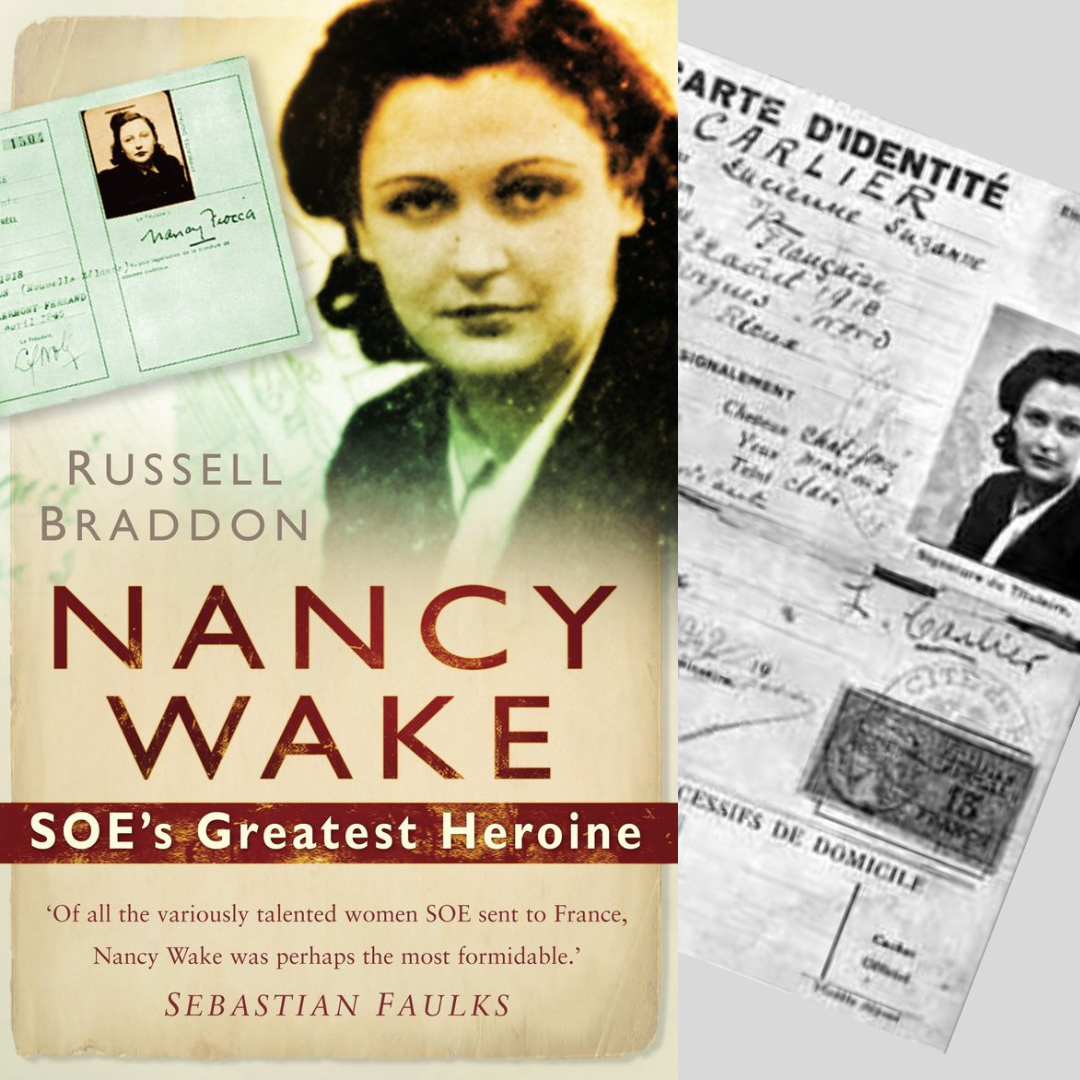 Nancy Wake
The story of Nancy Wake (aka Madame Fiocca) is incredible. She was born in New Zealand and raised in Australia; she married a French businessman and moved to the South of France, where during WWII she started helping the French and British resistance. Then, wanted by the Gestapo, she escaped to London, where she joined the Special Operations Executive (SOE), and was parachuted back to France as a spy and to liaise between the SOE and several Maquis groups (French resistance).
Nancy received several medals for her work, and her story's an important tribute to many other women who, like her, risked/are currently risking their lives for a greater cause.
She was an extremely feminine, elegant, funny, smart and brave woman, and this charming biography – which is a pleasure to read and despite the context is full of fun like Nancy was – does her justice.
This biography by Australian author Russell Braddon – which is one of the finest biographies I've read so far – was first published in 1956, so it's very accurate as he was able to interview Nancy and many people who knew her or fought with her.
Quotes by Nancy in the book:
'Don't you dare,' she commanded me, 'write me one of those miserable war books full of horror. My war was full of laughter and people I loved.' Well, you can't have anything more feminine than that.
[…]
'You see, I was lucky. I was in France at the beginning, when the Germans were right on top. And I was still in France at the end when we saw the Germans on the run. I know how Frenchmen felt all that time. I'd been part of their existence for a long while. I love France—people just don't realize how much she suffered. Six hundred thousand French people died because of World War II: two hundred and forty thousand of them in prisons and concentration camps. And yet there were always escape routes and "safe houses" for our men shot down over there and trying to get away. There was always a Resistance movement. Churchill says it shortened the war by six months. I know how they fought. And, because I know, I'm proud of them and love them, just the same as I'm proud of what we did and love my own country. 'I'm glad I was there. I'm glad I did what I did. I hate wars and violence but, if they come, then I don't see why we women should just wave our men a proud good-bye and then knit them balaclavas. 'And if I had to choose now whether I'd have my wealth, or the four years that caused me to lose it, all over again, I know what I'd say. I'd want the four years all over again. You see, in those days we knew what we were fighting and we had a job to do. We did it. I may have lost a lot during the war, especially Henri: but I made a lot of friends and I did what I felt I had to do. And plenty of other people lost more, or did more, than ever I did.' Those are Nancy Wake's last words on the subject of her war. It is only right that they should conclude this book.
---
La storia di Nancy Wake (nota anche come Madame Fiocca) è incredibile. Nata in Nuova Zelanda e cresciuta in Australia, si trasferì nel Sud della Francia dopo aver sposato un uomo d'affari francese. Lì, durante la seconda guerra mondiale, cominciò a collaborare con la resistenza francese e britannica. Ricercata dalla Gestapo, dovette poi fuggire a Londra, dove si unì alla Special Operations Executive (un'associazione britannica che durante la guerra collaborò con la resistenza e i gruppi partigiani). Fu quindi paracadutata in Francia come spia e intermediaria tra la SOE e la resistenza francese.
Nancy ricevette diverse medaglie per il suo lavoro, e la sua storia è un importante tributo alle molte altre donne che, come lei, hanno rischiato o rischiano tutt'ora la vita per una causa più grande.
Era una donna molto femminile, elegante, divertente, intelligente e coraggiosa, e questa affascinante biografia – che si legge con piacere e che nonostante il contesto è anche divertente, proprio come Nancy – le rende giustizia.
Questa autobiografia dello scrittore australiano Russell Braddon – una delle biografie più belle ch'io abbia letto sinora – fu pubblicata per la prima volta nel 1956 ed è quindi molto accurata avendo l'autore potuto intervistare Nancy e molti suoi amici e collaboratori.
Nancy disse a Braddon: «Non osare scrivere una di quelle tristi biografie di guerra piene di orrore. La mia guerra è stata piena di risate e di persone che ho amato.»